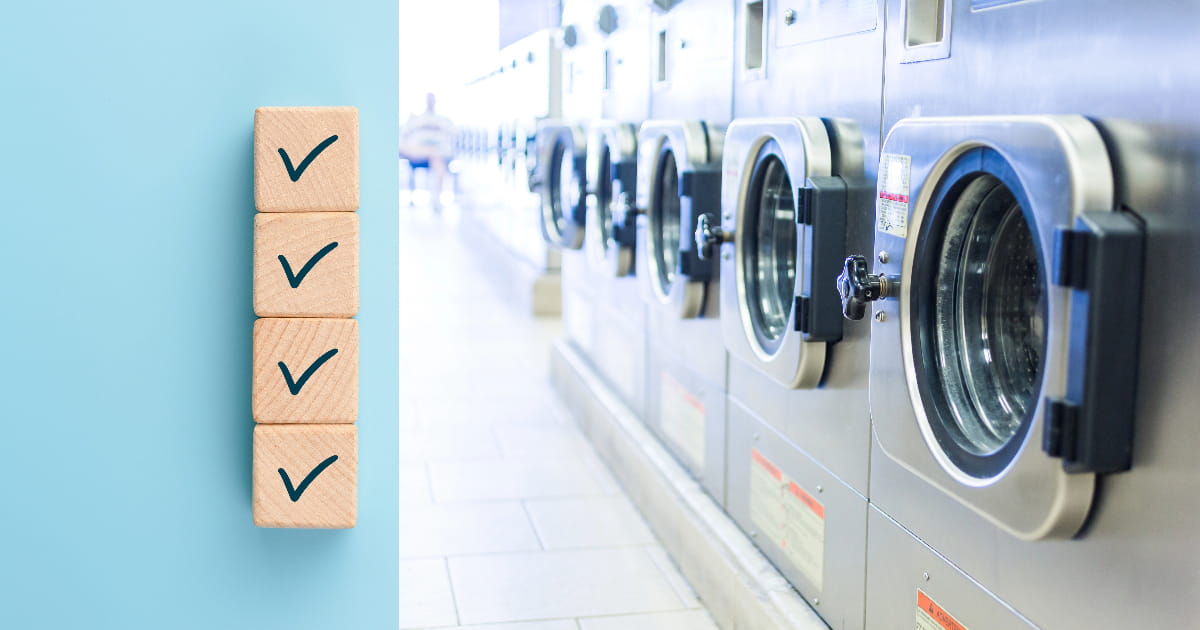 Greetings to all aspiring entrepreneurs in the vibrant and bustling Philippines! Having spent over a decade managing operations in large-scale laundry shops, I've witnessed firsthand the growth and opportunities this industry offers.
Today, I'm here to share with you a comprehensive checklist to help you kickstart your own laundry business journey. Let's dive right in!
1. Research and Market Analysis
Industry Overview
Market Trends: Understand the current trends in the laundry industry.
Competitor Analysis: Conduct a thorough analysis of your competitors.
Target Audience: Identify and understand your potential customers.
Location Analysis
Demographics: Study the demographics of the area you plan to set up your business.
Accessibility: Ensure easy accessibility for your customers.
Visibility: Choose a location that is visible and well-trafficked to attract more customers.
2. Business Planning
Business Model
Service Offerings: Decide on the services you will offer — self-service, full-service, or a combination of both.
Pricing Strategy: Develop a pricing strategy that is competitive yet profitable.
Financial Planning
Budgeting: Prepare a detailed budget, including startup costs and operational expenses.
Funding: Explore different funding options, including loans, grants, or personal savings.

Are you a Laundry Business Owner, Entrepreneur, Franchisee, or About to Start your own Laundry Business?
Partner With FlexWasher Laundry
Unlocking the Digital Potential of Your Laundry n Dry Cleaning Business with Flexwasher's Partnership
3. Legal and Compliance
Business Registration
Business Name: Register your business name with the appropriate government agency.
Permits and Licenses: Obtain the necessary permits and licenses to operate legally.
Compliance
Environmental Compliance: Adhere to environmental regulations, especially concerning water usage and waste disposal.
Labor Compliance: Comply with labor laws and regulations to protect your employees.
4. Setting Up Your Laundromat
Infrastructure
Laundry Equipment: Invest in high-quality laundry equipment, including washers, dryers, and ironing facilities.
Interior Design: Create a welcoming and comfortable environment for your customers.
Technology Integration
POS System: Implement a Point of Sale (POS) system to manage transactions efficiently.
Laundry Management Software: Utilize laundry management software to streamline operations and offer better customer service.
5. Operations and Management
Staffing
Recruitment: Hire skilled and trained staff to manage various aspects of your business.
Training: Provide training to your staff to ensure excellent customer service.
Marketing and Promotion
Branding: Develop a strong brand identity to stand out in the market.
Marketing Strategies: Implement marketing strategies to attract and retain customers.
Boost Your Laundry Online Presence with Mr. RKrishna's Proven Strategies!
Unlock the Secrets of Google SGE Techniques, Fast-Track Your Laundry and Dry Cleaning Business Success with the Mastermind Mr. RKrishna
6. Growth and Expansion
Customer Feedback
Feedback and Reviews: Encourage customers to leave feedback and reviews to improve your services.
Community Engagement: Engage with the community through events and collaborations.
Expansion Plans
Franchising: Consider franchising opportunities to expand your business.
Diversification: Explore diversification options, such as offering complementary services like dry cleaning or alterations.
7. Customer Service Excellence
In the laundry business, customer service is not just a department, it's an attitude. Drawing from a decade of experience, I can assure you that a satisfied customer is your best advertisement. Here's how you can excel in this domain:
Personalized Service
Understanding Customer Needs: Develop a keen understanding of your customer's needs and preferences.
Personal Touch: Add a personal touch to your services, like greeting customers by name or offering personalized laundry packages.
Handling Complaints
Effective Communication: Establish channels for customers to voice their concerns and feedback.
Swift Resolution: Ensure swift and satisfactory resolution of any complaints to build trust and goodwill.
8. Sustainability and Environmental Responsibility
In a country as beautiful as the Philippines, it is our duty to protect and preserve the environment. As a laundry business owner, you have a role to play in promoting sustainability. Here's how you can do your bit:
Eco-friendly Practices
Water Conservation: Implement water conservation practices such as recycling water.
Energy-Efficient Equipment: Invest in energy-efficient laundry equipment to reduce your carbon footprint.
Community Engagement
Community Clean-Up: Organize community clean-up drives to foster a sense of responsibility and unity.
Educational Workshops: Host workshops to educate the community on the importance of environmental conservation and how they can contribute.
Conclusion
By following this comprehensive checklist, you are setting a solid foundation for a successful and prosperous business. Remember, the key to success is continuous learning and adaptation to the changing market dynamics.
 As you step into this journey, remember that the road to success is paved with dedication, customer satisfaction, and a deep sense of responsibility towards our beautiful archipelago.
With this comprehensive guide, you are not just starting a business, but nurturing a community-centric and environmentally responsible enterprise. 
Here's to your success in the laundry business!
Promote Your Laundry Business Online with Mr. RKrishna's Proven Strategies!
Unlock the Secrets of Google ranking Optimization Stratetgies , Fast-Track Your Laundry Business Success with the Mastermind Mr. RKrishna
In today's digital landscape, having a robust online presence is pivotal to your dry cleaning business's success. Hiring an SEO consultant is the first crucial step...
read more
Disclaimer: The brands  / costs / Information mentioned in this blog are the recommendations provided by the author. FlexWasher-Laundry Website does not claim to work with these brands / represent them / or are associated with them in any manner. Investors and prospective franchisees are to do their own due diligence and in-depth research before investing or Purchase in/on a business/Product/Services at their own risk and discretion. FlexWasher-Laundry Website or its Directors disclaim any liability or risks arising out of any transactions that may take place due to the information provided in this blog.